HAND CLEANSING GEL, INSTANT SANITIZER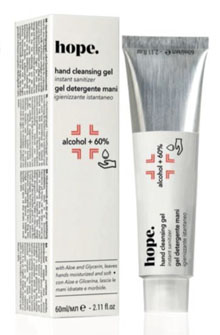 Size: 85 ml, 100 ml, 500 ml
Ideal for sanitizing hands on the go when there is no soap and water available. With Aloe and Glycerin, leaves hands moisturized and soft.
The small gel format is great for traveling.
DIRECTIONS: Apply a small amount of product to dry hands, rub in until completely absorbed. Do not rinse hands.
Warning: Keep out of the reach of children. Do not swallow. Avoid contact with eyes. In the case of contact, rinse immediately with water. Alcohol - 64%.
Made in Italy.
HYDROALCHOHOLIC CLEANSING HANDS GEL
INSTANT GEL HAND SANITISER WITH ALOE VERA