Permanent hair color cream TIARECOLOR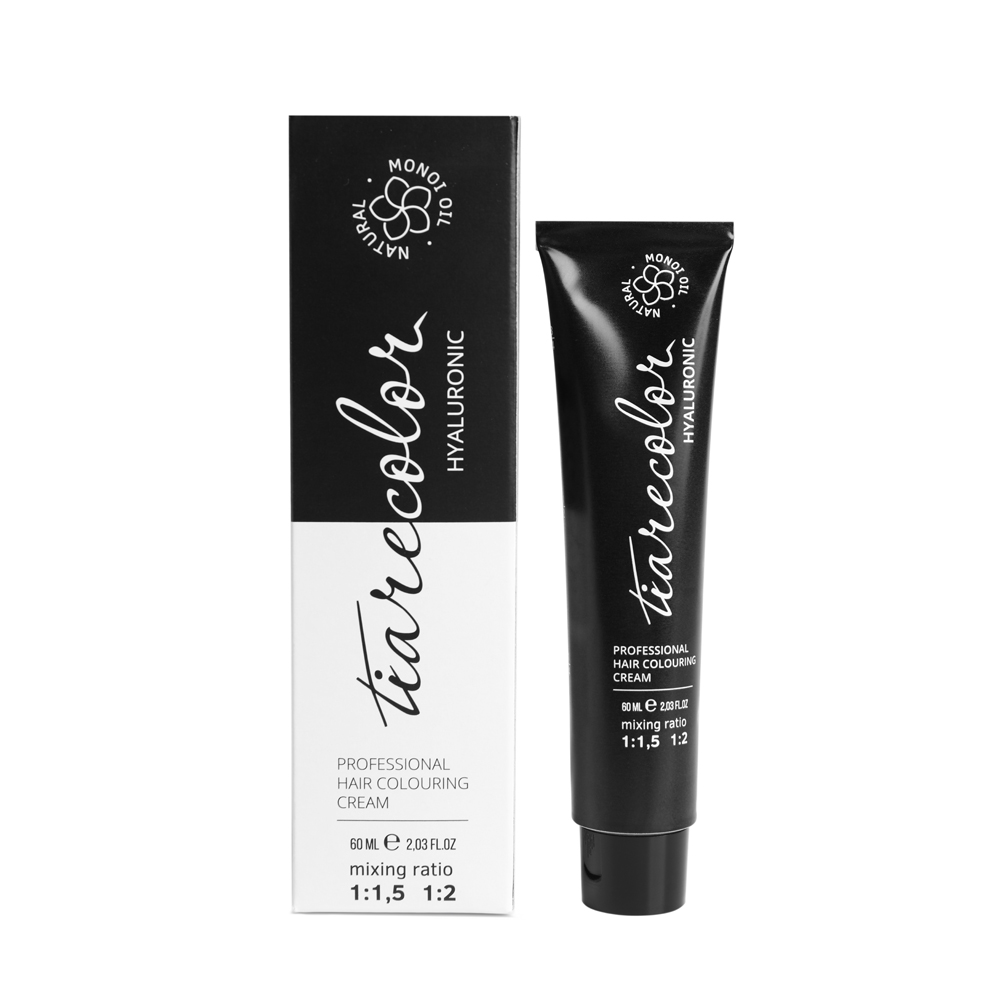 Size: 60 ml
TIARECOLOR gives hair a rich color, brilliant shine and perfect coverage of gray hair. Formula contains oil complex: monoi, argan, avocado and macadamia with nourishing  and protective properties for scalp and hair.
TIARECOLOR is used to create a long-lasting color, make all the blonde nuances and incredible ideas.
!!! Apply coloring mix to clean hair. TIARECOLOR is professional use only. Before application we recommend you to provide sensitivity test. Please read and follow instructions inside the hair color cream box.
TIARECOLOR palette is complemented by 19 unique fashionable shades that will be trending next year.
We present you updated instructions, color wheel and new shade groups:
.018 - smoky ice
.081 - nude beige
.71 - cold chocolate
.8 - tobacco
COLOR APLICATION
PERMANENT
First application (virgin hair): apply part of the mixture to the lengths and ends. Leave on for 20 min.  Apply the remaining mixture to the roots. Leave on for 20 min. Total time: 40 min.
Re-touch color: apply color mixture to re-growth only. Leave on for 35-45 minutes. Refresh ends using Demi Permanent coloring service for the final 10-20 min. of the Permanent re-touch color process time.
DEMI PERMANENT
Apply to scalp area through ends or as needed; process 10-20 min.
SUPER LIFT (Superlightners blonde)
Re-touch lift: apply the mixture to re-growth only. Leave on for 45-55 minutes. Do not comb through to the ends in order to avoid emphasizing the difference. Refresh mid shaft and ends using Demi Permanent formula for the final 10-20 min. of the Re-touch lift process time.
AFTER COLOR TREATMENT! When application time is completed, rinse with warm water and shampoo with TIARECOLOR Postсolor Shampoo. Rinse. Proceed sealing treatment and Ph balance with TIARECOLOR Postсolor Mask. 2-5 min., then rinse. On towel dry hair spray TIARECOLOR TWO Be-Phase leave in conditioner to detangle, nourish and protect hair. Cut and/or style as desired.
For Successful Color Formulation Consider:
Color Level of Natural (virgin) and Colored (Existing) hair.
Percent of Gray hair.
Target level desired and its Undertone.
Select Shade and Developer Volume.
Select Coloring Service Type or combine them (Permanent, Demi Permanent, SuperLift).
Ammonia free bleach powder TIARECOLOR
DETOX Preparing shampoo with neutral pH